Tweet
This review is from the point of view of a consumer, or to put more accurately a new 'mother' to a Sugar Glider that was breed by
Pocket Pets.
(Yes, that is me.)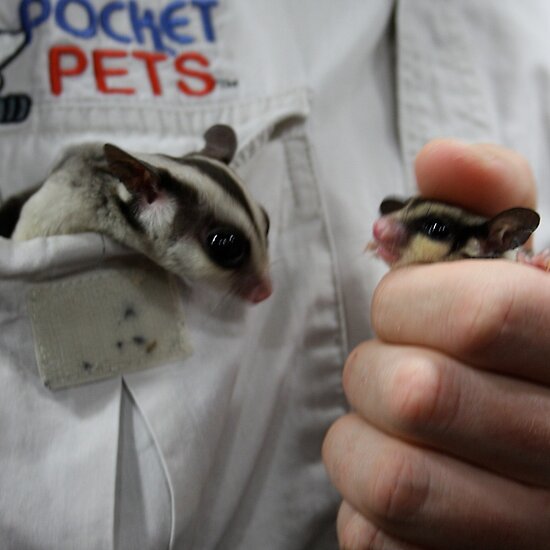 My mother bought Fritz for me in June of 2010 and I was thrilled to have a pet of my own to share my new apartment with. Sadly, Fritz wasn't old enough for me to take him home yet, so I had to wait over a month to pick him up.
During that time I researched, I read, I watched videos...I basically memorized every bit of information that Pocket Pets and their associated veterinarian website had available.
Then I started to ask clarifying questions to fill in holes that their information left.
But all I got in return were 'cookie cutter' answers where they basically copied and pasted the information that I already had into the email. Definitely not what I was looking for. With every other company I asked a question, I was able to have an actual conversation with the person on the other side of the line (either by phone, email, or chat).
The first couple times, I dismissed this. Then I started digging around in the web-world outside of Pocket Pets and their associates. And I started reading some very disturbing things, things I couldn't quite believe.
Pocket Pets, the very professional looking company who seems to be so helpful, was called a mill breeder countless times. Yes, that's on the same level as those horrible puppy mills. Others even went so far to call them liars and fraudulent because of their 'fake' vet association:
the ASGV
.
Plus, they kept on pushing off the date when I could pick Fritz up and take him home.
Needless to say, I became worried and suspicious.
So I sent them an email mentioning these concerns and asking for pictures of the breeding facilities as well as an update on Fritz.
They again gave me a cookie cutter answer, avoided the pictures all together using their USDA certification (which seems to be as useful as an FDA certification) and Better Business Bureau grade A standing. (Though we were able to set up a time for me to pick up Fritz, finally!)
-Quick Side Note: As a marketer for my family's business, I've had the Better Business Bureau (BBB) call us up and asking us to pay multiple of hundreds of dollars for a Grade A standing. Excuse me? You want me to PAY for a good reputation? Sorry, that screams a scam to me. But anyway, back to the review at hand.
I picked up Fritz and everything went so well that I let it slide. I followed their directions to the letter and my research slowed basically a halt. I was busy bonding with Fritz and making sure I had good toys, treats, and other accessories. Plus, Pocket Pets couldn't be a scam, they looked to professional and official and Fritz seemed fine.
Then I met someone with a female he had bought from Pocket Pets and a male he had rescued. They started to breed and their fur began to have a brown tint. This didn't mesh with me. The gliders were of different ages, so it couldn't have been them getting older. Plus, I was worried about the state of their habitat (to the point I was thinking negligence) but not sure enough to step in or report him.
So I started researching again. The first thing I did was email a question to Pocket Pets. Their history was to email me back within 24 hours (a good habit to keep). But they didn't follow that habit this time. (Note: It's been about 4 days since I sent that email with no response.)
So I branched out looking for advice from others in the Sugar Glider Care Giver Community (no, that's not an official name, lol). This is when I decided to join the community at SugarGlider.com and get feedback from them.
I have yet to see proof of the claims about Pocket Pets being fraudulent and a mill breeder, but I'm definitely suspicious and not happy with their customer service post-purchase.
Have you (or someone you know) bought a Sugar Glider from Pocket Pets or used the ASGV? I'd like to know your experience.